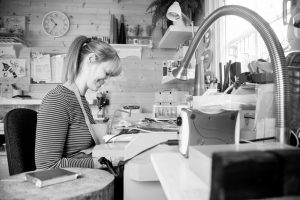 Hello and welcome to Jenny Grace Jewellery!
I'm Jenny, a jewellery designer-maker, working from my workshop which is located in a lovely seaside village in Scotland. From here I design and make mostly silver jewellery but I like to add accents of yellow and rose gold for contrast.
I make high quality jewellery at affordable prices. As well as the silver and touches of gold mentioned, I also often use beautiful freshwater pearls and semi precious stones to create jewellery which is timeless and wearable.
Inspired by shapes and colours which draw me, I am also inevitably inspired by Scotland's natural beauty. I like to carry a notepad with me to doodle any designs which spring to mind when I'm out and about.
I hope you enjoy my unique, handmade jewellery. For exclusive offers, flash sales and news please join my mailing list.
Jenny x