Did you know that there is a superb, cheap, easy and non-toxic way to clean your silver jewellery at home? All you need is bicarbonate of soda, aluminium foil and water! Combined, they create a chemical reaction known as ion exchange. During this process, the tarnish on the silver (silver sulfide) is converted back into silver, and the sulfide becomes aluminum sulfide on the foil: 
Take an aluminum pie plate or line a bowl with aluminum foil.

 
Pour in enough very hot water to cover the jewellery
Add bicarbonate of soda (1 tablespoon should be enough for about 500ml water)
Place the jewellery in the solution, making sure that it is touching the aluminium

 
Rinse and rub dry.



Rinse and ball up the foil and put it into the recycling.
Remember not to use this method for pearls, plated silver or gemstones!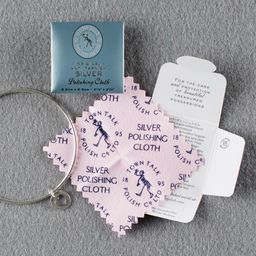 And as always do follow these general rules: 
Store your jewellery in a dry place. Preferably in a jewellery box. The bathroom shelf is the

worst

place to store jewellery as the jewellery will be exposed to air and steam.

 

Do not bath, shower, use cleaning products or wash up when wearing your jewellery.

 

Jewellery should not be exposed to chlorine or salt water as this makes the surface matt and dull.

 

Avoid contact with make-up, creams and perfumes.

 

Gold plated jewellery may need re-plating every few years, depending on how it is cared for. It can be re-plated though so as always, just get in touch if you require this.

 

When pearls have been worn, give them a quick wipe to remove any grease and prolong the life of the silk.

 
I am happy to take my pieces back for a professional clean or polish, contact me for a quote – enquiry@jennygracejewellery.com