Choosing a piece of jewellery for someone else can sometimes feel a bit daunting, but it doesn't have to be. Follow my simple steps to gifting jewellery and choosing will be as easy as one two three …
1 Consider the Person You are Buying for
If you are thinking about gifting earrings, make sure the recipient's ears are pierced. Do they wear bracelets every time you see them but never a necklace? Choose a pretty bangle or a cuff. Have a think about the metal you have seen them wear. Do they prefer gold or silver? If you are unsure why not choose a mixed metal piece that will match either. Please do remember I can always alter size of a bangle after purchase (free of charge) so don't worry too much about sizing.
Whilst all of my pieces are designed to be timeless, consider the recipient's age. Someone very young might not like a big statement necklace yet, but something daintier. Pearls are a safe (and elegant) choice for any age and go with either gold or silver pieces.
2 Make it Personal
Many of my pieces can be personalised with either initials, or elements such as extra rings and stones to signify a special number. Honor a special birthday, number of children or pets or anniversary by choosing unique elements.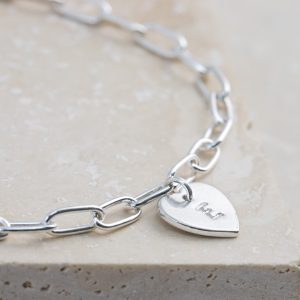 3 Set Your Price Range
Always think about your budget before you start browsing. By setting your price range before you begin shopping, you'll save yourself a lot of time and effort by narrowing the choices before you even begin. This is especially important if you buy for more than one person, eg around Christmas. My 'Gifts under £60' selection can be a great starting point.
Most importantly remember that it's not the price tag, choice of metal or size that makes a gift special but the person who chooses it. Happy gifting!