As much as we love our jewellery, the majority of people unfortunately store their precious pieces in less-than-ideal surroundings. As I've explained in previous blog posts, bathrooms are a big no no when it comes to jewellery storage. The humidity of the bathroom can make the metal oxidise faster, leading to tarnished and rusty jewellery. Instead, store them in a dry place at room temperature. 
Fine jewellery should be stored at room temperature, away from direct sunlight (so avoid window sills). You are best advised to store my pieces in their original boxes, as they come with pink anti tarnish tabs.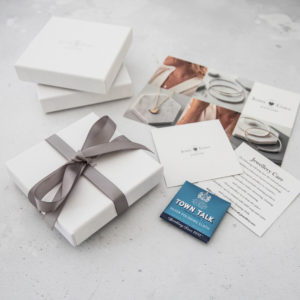 JGJ boxes are fully recyclable should you choose to use a larger storage box. Multi-level jewellery boxes with felt-lined drawers and dividers are good for storing expensive jewellery and protecting it from dust. The felt helps absorb excess moisture and prevent premature tarnishing.  
For some large pieces, it might be best to keep them stored separately inside a felt pouch or wrapped in a silver polishing cloth to limit exposure to the air. You can purchase polishing cloths on my website. 
Silver jewellery is the most susceptible to tarnish. Keep silver earrings, necklaces, bracelets, and rings neatly organized and not touching each other, in a space with plenty of airflow. 
Miniature cloth busts are a fun alternative to traditional jewellery stands. You can drape your necklaces around the neck. Depending on how sharp your earring posts are, you can stick them in like thumbtacks, or buy a simple chain to go around the neck to hang them off of.  
Finally, keep your gemstones separate. Depending on their hardness, gems can scratch your other jewels. Keep yours organised using a ring pad, or in separate slots on a fabric-lined tray.